Easy return of goods
14 days from purchase for any reason
Free shipping
from 106,71 €
Altitude
1100-1200 m n.p.m.
Processing method
natural-monsooned
Noticeable notes
INDIA Roasted coffee
INDIA Monsooned Malabar is very unique and exotic. You can fall in love with it after the first sip of coffee. INDIA Monsoon Malabar is obtained from "cherry" grains. After dehulling, coffee is transported to the coastal city of Mangalore, where "monsooning" takes place in large warehouses with open walls. In the rainy months from June to August, coffee is stored in warehouses with very good ventilation and a specific wall thickness, thanks to which the coffee slowly absorbs moisture. Then, after absorbing enough water, it is poured and packed into bags, which are stacked to ensure proper and even "monsooning". This process is carried out many times during the monsoon months.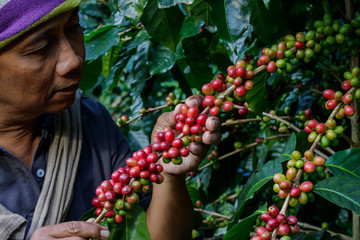 Do you have a question about this product?
Write to us! Our specialists will try to answer your question.
Ask a question
Other customers also bought
2020-01-27
Discover the details of the unique character of INDONESIA SUMATRA MANDHELING. Many Indonesia's islands have been formed by volcanoes and are still using soil rich in volcanic ash and ideal for growing coffee. It is no wonder that some of the most famous coffees in the world are grown on the islands of the Malay archipelago in Indonesia: Sumatra, Sulawesi and Java. About 15 percent of all coffee grown in Indonesia is Arabica. Sumatra is the second largest island in Indonesia.